Could the new UK Covid Home Guard be the game changer we've been looking for?
Many of us tend to know how to act in a crisis, but this doesn't necessarily mean that behaviours will shift afterwards. That said, catastrophic events such as pandemics, wars, and natural disasters often create conditions where humanity responds in innovative ways that can alter the course of history. Radar, anaesthesiology, and GPS are all examples of significant technological progress developed during a time of war, which then went on to become mainstream.
In the UK and around the world, humanity is investing massively in the war against Covid 19. The front lines of this war are our medical and care professionals. Supporting them and ensuring that our society continues to function are workers in key sectors, including transport, supermarkets and food distribution, delivery, postal services, local and central government, communications, and the Internet.
The next line of defence are industries that have switched their efforts to virus testing and the manufacture of much needed kit for the health sector: new design ventilators, oxygen regulators, and protective equipment.
But we are also witnessing the emergence of an ever-growing Home Guard on our streets and in our communities. WhatsApp and Facebook groups have sprung up to provide care services for the elderly, delivering food and medicines to the isolated, and creating much needed neighbourly connection. Every day now, caterers' kitchens have given over their capacity to making many thousands of free meals, made possible by gifts of food, money, volunteer cooks, and drivers to support the front line: meals for NHS staff working long shifts and food for the vulnerable and newly housed in makeshift hostels that used to be hotels.
Their ranks have been swelled by the 750,000 who signed up on GoodSam to volunteer for the NHS as well as every other makeshift home effort: the family who have encouraged bracelet making with a donation for each one made, the 8 year old girl who is using a 3D printer to make protective masks, and people sewing wash bags for scrubs from old sheets.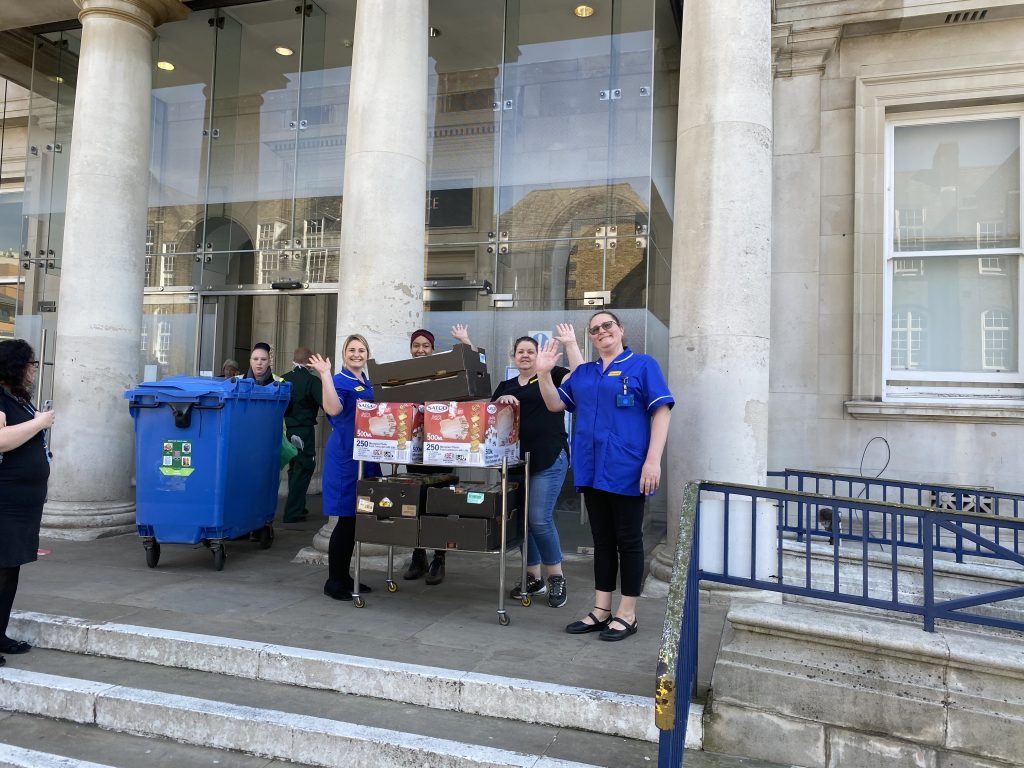 This undoubtedly represents the greatest mobilisation of the British public in recent history and way beyond what was delivered for the 2012 Olympics. It truly resembles what anyone would rightly describe as a war effort. And across the country, people are asking themselves how they can help those who are struggling in this crisis.
While government remains stuck in top-down, "big is beautiful" thinking (one need look no further than the tragically inept attempts to deliver testing and protective equipment via large scale contracts), what Edmund Burke would describe as "little platoons" are responding with a plan for connected laboratories supporting a viable network of testing centres and local tailors and dressmakers dedicating themselves to making essential protective clothing.
But where exactly are all these efforts taking us? However grim things seem now, in the longer term lockdown conditions will no longer be needed and normal life will resume. Schools will reopen and we will return to cinemas, football matches, concerts, and festivals.
This will clearly be another key moment requiring thought and reflection: Will we choose to move on, eager to put the current awfulness behind us? Or will we stop to consider exactly what the current crisis has taught us about ourselves and our potential to cooperate for the greater good? Will we ever again be able to turn a blind eye to those most vulnerable in our communities who suffer poverty, old age, isolation, domestic violence, overcrowding, or worse, homelessness?
At Mobilise, we have been working to promote intergenerational housing – intentional communities that provide quality housing for different groups, each supporting the needs of others, such as students befriending the elderly, and older people supporting vulnerable families.
The best examples of these can be found in the United States, the Netherlands, and Spain. Here in the UK however, despite the national housing crisis, growing population of older people, and lack of affordable housing, key players have been slow off the mark to adopt and trial new ways of living for the benefit of the many. Will our new found neighbourliness and care of our elderly help usher in a new era of intergenerational living? And if so, what else could change?
When normal life resumes, there will still be a growing need for housing, a crisis in the provision of older people's care, as well as the blights of loneliness and isolation. We need to build on what's happening around us now to create the communities that will care for the elderly – a possible mainstreaming of intergenerational living.
We need to promote home share, diversify the occupancy of now less popular sheltered housing schemes, and develop new intergenerational housing projects so as to repurpose parts of our now underutilised town centres and retail spaces. We need our government and local authorities to find new ways of supporting the "little platoons" – at worst, getting out of their way; at best, supporting them flourish and recognising the huge capacity and goodwill that exists at street and neighbourhood level. The government's recent Civil Society Strategy is strong on the idea of 'people taking action as the bedrock of a strong society' but far weaker on the how?
In normal times, we are more likely to keep ourselves to ourselves, not know our neighbours, feel we are too stretched to volunteer, and not believe in society. We're learning again that it doesn't have to be this way.
Now's the time for encouraging ourselves and those around us to understand what's going on and, moving forward, to take this experience with us. We need to look beyond the crisis and ask ourselves how this should impact on our daily lives. Then, just maybe, will our communities be able to re-emerge from this crisis to grow and flourish for the long term benefit of us all.
by Micah Gold
edit by Marcel Wiel, https://mw-com.fr/contenu-anglais/